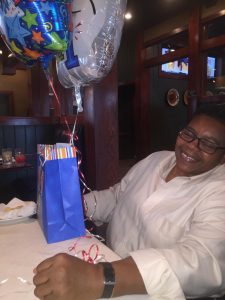 Sister Mary Clea
NLBBC Sunday School Attendee
of the First Quarter 2019
On Sunday, March 31st, Ms. Mary Clea was named Sunday School student of the quarter during the Pack A Pew Sunday School promotion service. Read a little about Ms. Clea from her daughter below:
My Mom Mary
Keep it simple and to the point, if you are looking for advice or an opinion from her, be prepared to get lemonade with no sugar.
My Mom Mary
Is the most dependable person I know of. You don't have to second guess will she show up. If she said she's coming, she's coming, most likely earlier than you would like her to.
My Mom Mary
Is the most genuine person I know, you can't find another person like her.
My Mom Mary
Has the most radiant smile, that lights up the room. HER SMILE GLOWS. I'M NOT SURE WHY SHE BE MEAN MUGGING WHEN ITS TIME TO TAKE A PIC. STOP MEAN MUGGING THE PICS MOM, WE WOULD APPRECIATE IT.
My Mom Mary
Today is my best friend,