Elder Anthony B. Stubbs,
New Light Beulah-Minister of Music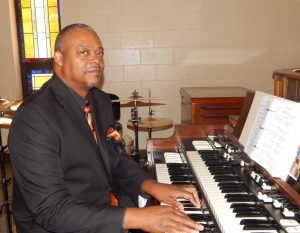 Elder Anthony B. Stubbs was born and raised in Cleveland, Ohio, the middle child of Noah Stubbs, Jr. and Dorothy J. Whye.  At an early age he recognized that music was in him.  He loved to sing and was trained by the Holy Spirit to play the organ.  He became the musician for New Light Baptist Church of Cleveland, Ohio in 1974 and served there until he joined the US Army 1977.
Elder Stubbs has gained much knowledge of the music ministry while serving in the military.  He has played for many churches on US Military bases in Korea, Germany, The Netherlands, Georgia and South Carolina.  He takes the music ministry seriously and strives for excellent to be presented in the House of God as the music minister leads in worship of our God.  One of his profound statements that he stands on is "God gave His very best in giving His Son Jesus, the Christ for us so we should give our very best in praise and worship to Him.
Elder Stubbs answered the call to preach the Gospel of Jesus Christ in August 2008 and was licensed on Sunday, April 21, 2013 under the leadership of Bishop Wendell B. Sumter of the Zion Mill Creek Baptist Church where he is a member.
Elder Stubbs considers it a privilege to be chosen as the Minister of Music for New Light Beulah Baptist Church and is looking forward to going to higher high in the music ministry at this great church.